Thank You, Chuck Adams, Editor Extraordinaire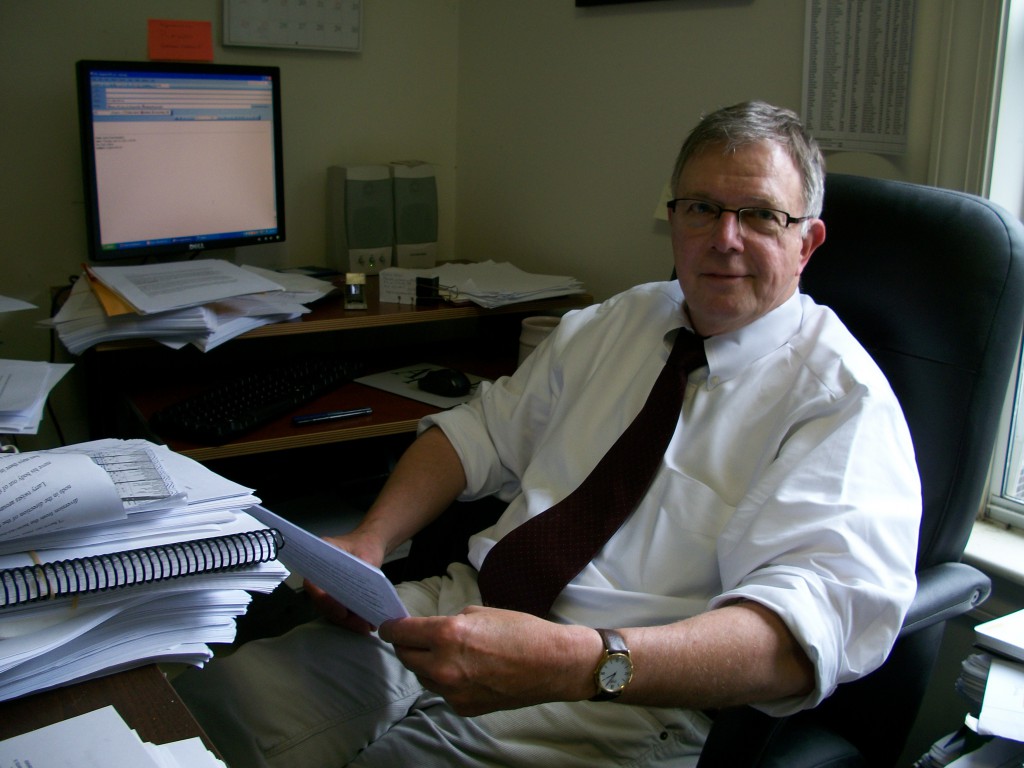 After more than 50 years working in the publishing industry, in part at Dell/Delacorte and Simon & Schuster in New York, and for the last 16 years working as Executive Editor here at Algonquin Books, the one and only Chuck Adams is leaving full-time work at the end of this year.
To say we will miss him would be an understatement. Chuck is a spectacular editor, a wizard with words, an advocate for authors, and a delight as a colleague and friend. And the stories. Oh, the stories! We love listening to Chuck's tales—always entertaining, never bragging (though he could have/should have!)—of wisdom gleaned from a remarkable career.
As Chuck said in his acceptance speech for the 2013 Poets & Writers' Editor's Award, "I confess . . . that messing with other people's words does seem to come naturally to me . . . I've been incredibly blessed, getting to work with so many talented storytellers, so many gifted stylists, so many wonderful people."
Chuck began working in publishing in 1969 in production at what was then Holt, Rinehart, and Winston, and after a series of publishing jobs during which he made the switch to editorial, he wound up at Simon & Schuster, where he worked closely with legendary editors Michael Korda and Alice Mayhew. Highlights included editing Now You Know by Kitty Dukakis, approximately 20 novels by Mary Higgins Clark, half a dozen or so novels by Jackie Collins, four or five by Sandra Brown, the same with James Lee Burke and with Barbara Delinsky, all of them bestsellers.
A parade of celebrity authors and mega-sellers followed, including three books by Charlton Heston, two by Neil Simon, and singles by Carol Channing, Cher, Faye Dunaway, Paul Mazursky, Maureen Stapleton, Tommy Tune, Esther Williams, Elizabeth Taylor, Gloria Vanderbilt, Maureen O'Hara, Howard Cosell, and Sarah Ferguson, Duchess of York. He also worked with the writers for Ronald Reagan's memoir, An American Life, and Richard Nixon's In the Arena.
In 2004 he joined Algonquin, making Chapel Hill his home. He brought one more notable celebrity title, Tab Hunter Confidential, and an array of smart, out-of-the-box fiction—page-turners and satire, epics and thrillers, and everything in between. You probably know more than a few of these Algonquin books, some of which have gone on to sell incredibly well. Like, say, Water for Elephants by Sara Gruen, which has sold more than 10 million copies, Tayari Jones's An American Marriage, Tim Johnston's Descent, and most recently, Peace Adzo Medie's His Only Wife, the Reese's Book Club pick for October. Jonathan Evison, Robert Goolrick, and Brock Clarke all worked with Chuck on their acclaimed and bestselling novels, too. In all, Chuck has worked on well more than 100 national bestsellers.
So, to say we are thrilled that Chuck will remain attached to Algonquin Books as editor-at-large, working with those authors he has edited in the past, would also be an understatement. We thank you, dear Chuck Adams, and wish you sunny days filled with rest, relaxation, and writing just for yourself!
P.S. If you haven't already read Chuck's blog post about the time he took home the top prize on "The $10,000 Pyramid" with celebrity partner Soupy Sales, this is one of the those fantastic Chuck stories we were talking about.